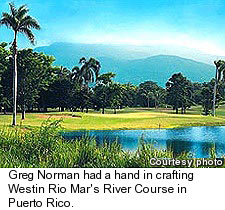 FEATURE STORIES
This is the time of year Northerners out there start dreaming about the sunny Caribbean. Though the Caribbean isn't exactly awash in golf courses – there isn't much room on those islands, after all – there is world-class golf to be found there, albeit often pricey. To help you make the most of your next Caribbean golf trip, TravelGolf.com has compiled its list of the top 10 resorts in the islands.
---
New courses and refurbished classics make this island one of the Caribbean's top destinations for golf vacations. Like the lazy rhythm of island music, Jamaican vacations are meant to be easy-going and worry-free. You have to look for trouble. However, if your idea of trouble is bunkers as big as beaches, water hazards stretching to the horizon, and wind blowing fresh off the sea -- no problem, mon.


MONTEGO BAY, JAMAICA - Like the Ritz-Carlton's new White Witch course, its sister course, the Wyndham's Three Palms, is a great reason to visit Jamaica - not that you need another one. Despite all of its sun, beaches, and affordability, golfing in the Bahamas was little more than an afterthought ten years ago. Many a stunned duffer would make his way around this archipelago over 700 islands only to find one or two venues worthy of playing.
Caribbean Golf Features
More Stories
Client Features
Advertising Features
Hot Spots