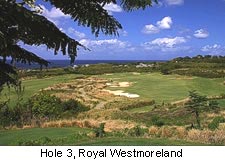 DESTINATIONS
Barbados
Staff Report
Barbados' four noteworthy golf courses are scattered about the island, providing for a unique visual experience at each. The majority of the four are coastal courses, each home to breathtaking views of the ocean and beaches. The golf itself is top notch and the courses coming from the minds of many of the world's most acclaimed designers.
Golf Courses at a Glance
Barbados Golf and Country Club
Ph: 246 428 8463
This Ron Kirby design was the island's first public championship course when it reopened in September 2000.


Rockley Golf Course
Ph: 246 435 7873
A pleasant nine hole course located in the southeastern tip of the island among villas, tennis courts and swimming pools.


Royal Westmoreland
Ph: 246 422 4653
Robert Trent Jones Jr. built this challenging course on a former sugar plantation, offering golfers unmatched views of the Caribbean Sea.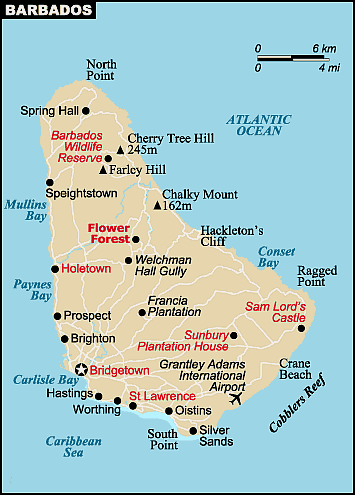 FAQ
1. What and where is Barbados
Barbados is located well south east of Cuba and Puerto Rico, just north of Trinidad and Tobago, which is off the northeast coast of South America. All told, the island is about 21 miles by 14 miles. The west and south coasts feature the calm Caribbean Sea and pristine beaches, while rugged cliffs and the Atlantic Ocean populate the east coast.
2 .Do I need any special documents once I get there?
American and Canadian citizens possessing a return ticket and planning on staying no longer than three months may gain entry into Barbados by providing a birth certificate or citizenship papers, accompanied by a valid photo I.D. Travelers from other countries must provide a valid passport.
3. Will I suffer from any jet lag?
That of course depends on where you are coming from, but Barbados is in the Atlantic Standard Time zone, one hour ahead of Eastern Standard Time during daylight savings time.
4. What type of weather should I expect?
Temperatures in Barbados range between 75 and 90 degrees Fahrenheit, year round, with slightly cooler temperatures after dusk. The island consistently receives between eight and nine hours of daily sunlight.
5. What is the official language and currency?
English is the official language, although the native Barbados dialect can be difficult to understand at times. The Barbados Dollar is the official currency. Traditionally, the one U.S. Dollar is equivalent to about two Barbados dollars.
6. Besides golf, what are some worthwhile activities?
A favorite among vacationers is to explore the - Seven Wonders of Barbados - The points of interest are scattered about the island, and provide visitors with an all-encompassing tour of the land, including Harrison's Cave and the citrus paradise Grapefruit Tree in central Barbados as well as a Jewish Synagogue, a collection of 17th century cannons, and the enormous Baobab tree in the south.
And, as is commonplace throughout the Caribbean, the soft, white beaches and bounty of water sports always draw constant attention.
Transportation Information
Three airlines make scheduled trips to Barbados from major American cities everyday - American, BWIA, and Air Jamaica. Travel time from New York is about 4 hours and 20 minutes and 3 hours and 40 minutes from Miami. Canadian travelers can get to Barbados via daily Air Canada flights from Toronto, as well as on weekly Air Canada flights from Montreal. BWIA flies from Toronto to Barbados on Saturdays.
From within the Caribbean, your best bet may be to board an inter-island tour, which provides the most scenic and structured trip throughout the region. For a more direct trip, several airlines including Air Jamaica and LIAT make daily trips to Barbados from other major Caribbean islands.
Obtaining a rental car in Barbados is not difficult, but it does include a little extra paperwork. All visitors must pay $10.00 Bds for a temporary driver's license, assuming they have a valid license from their home country. These licenses can be issued by any authorized car rental company.
Agree with this review? Disagree?
Post your thoughts at GolfBoards.com.