DESTINATIONS
Bermuda
Staff Writer

For such a small island - 21 square miles - Bermuda has one of the best golf offerings in all of the Caribbean. The Robert Trent Jones name is stamped on courses throughout. Courses include a mix of public tracks to ritzy resort courses home to great amenities and relaxing spas. The one constant, however, is that the courses are usually no more than a pitching wedge from the beautiful ocean.
Golf Courses at a Glance
Belmont Hotel Golf and Country Club
Ph: 441 236 6400
Devereaux Emmet-designed resort course with complex greens and tight fairways that was recently renovated and set to reopen in 2003.


Fairmont Southhampton Golf Club
Ph: 441 238 6952
This 18-hole, par-3 course is located on an elevated and scenic setting, and affected immensely by the strong winds off the ocean.


Mid Ocean Golf Club
Ph: 441 239 0330
A challenging and very long private course in Tuckers Town, it was renovated in 1953 by Robert Trent Jones.


Ocean View Golf Course
Ph: 441 295 9093
This is a nine hole track on the North Shore with 18 sets of tees to make you feel as if you have played a full round.


Port Royal Golf Course
Ph: 441 234 0974
A Robert Trent Jones design that ranks among the best public courses in the world.


Riddell's Bay Golf and Country Club
Ph: 441 238 1060
The island's oldest course features tight fairways and is only open to the public on the weekends.


St. George's Golf Course
Ph: 441 297 8353
A par-64 Robert Trent Jones design that is located in the vicinity of the airport.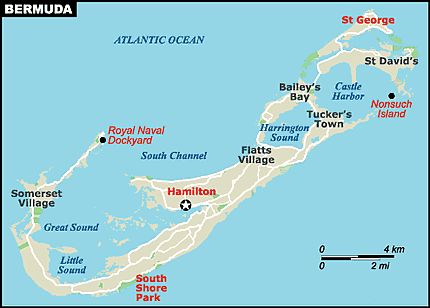 FAQ
1. What and where is Bermuda?
Bermuda is the oldest self-governing British Colony. Located in the Atlantic Ocean, the 21 square mile island is 600 miles due east from Cape Hateras, North Carolina. The international airport is located in St. George.
2. Do I need any special documents once I get there?
While a passport is preferred, U.S. and Canadian citizens may gain entry to Bermuda with an original birth certificate or naturalization certificate, accompanied by a photo I.D.
3. Will I suffer from any jet lag?
Well, that of course depends on what part of the world you are traveling from, but the islands are in the Eastern Standard time zone, but they do not observe daylight savings time.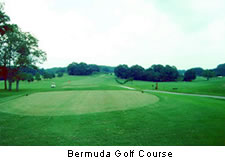 4. What's the weather like in Bermuda?
From December to March, temperatures average around 70 degrees Fahrenheit. May to mid-October is the warmest time in Bermuda, with the temperature varying from 75 to 85 degrees. Rainfall is distributed rather evenly throughout the year, although the summer months are slightly drier.
5. What is the official language and currency?
English is the official language while the official currency is the Bermuda dollar. The tender is pegged to the U.S. dollar, so American travelers can use their own money anywhere on the island.
6. What kind of taxes will I pay during my stay?
There is a departure tax of $25 for all airline passengers over the age of two, but it is built into the price of the ticket. There is also a $60 tax for all cruise ship passengers. There is also a seven percent hotel occupancy tax. Many restaurants include gratuity in the bill, but in the case it is not, 15 percent is the norm.
7. Besides golf, what are some worthwhile activities?
Scuba diving and snorkeling are popular given the location and ocean visibility, while horseback riding is a great way to view the island. There are also several shipwrecks worth visiting, walking tours, cultural events, day spas and plenty of activities for families or honeymooners.
Transportation Information
Bermuda is easily accessible from all over the United States and Canada, and it is only about two hours from the east coast. Continental, American, Delta, USAir and Air Canada all make scheduled flights to Bermuda, mostly connecting through major cities like Atlanta, New York and Philadelphia.
Visitors to Bermuda are not permitted to rent cars, so you will need to get a little creative when navigating the island. Motor scooters are available for rent, while private horse and carriage tours are available for hire. There are also plenty of ferries and buses to go around, and many tourists find it worthwhile to purchase a Transportation Pass, for unlimited use over a span of one, three or seven days. Taxis are also available.
Agree with this review? Disagree?
Post your thoughts at GolfBoards.com.