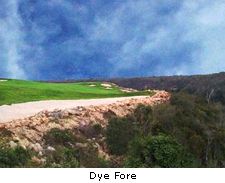 DESTINATIONS
All one has to do is check the guest list to find out how big golf has become in the Dominican Republic.
Before Casa de Campo's brand-new Dye Fore layout opened on a limited basis this spring three former U.S. Presidents had already hit golf balls on its wide Paspalum fairways -- the elder George Bush, Bill Clinton and Jimmy Carter.
Dominican Republic
The Dominican Republic has no shortage of quality golf options, with new courses by Gary Player, P.B. Dye and Pete Dye, and a Jack Nicklaus trio under construction. Pete Dye's new Dye Fore is a stunning addition to his three other courses at Casa de Campo, which include Teeth of the Dog, rated 35th in the world by Golf Magazine. Pete's son P.B. Dye has a dramatic new layout at Punta Cana and another under construction. Gary Player's cleverly crafted Guava berry is also drawing golfers to the Dominican Republic, the Caribbean's hottest new destination.
Golf Courses at a Glance
Casa de Campo
Ph: 800-877-3643
The buzz is all about Pete Dye's fourth and newest course at this outstanding, multi-faceted resort. Opened April 21, 2003, Dye Fore joins the Teeth of Dog (ranked 35th in the world), the Links Course, and the private La Romano Country Club. Dye Fore has nine dramatic clifftop holes; Teeth of the Dog has seven spectacular oceanside holes.


Guavaberry Country Club
Ph: 800 847 0291
Located at the Coral Resort, this Gary Player-designed track is one of the region's newest and most challenging.


Punta Cana Resort and Golf Club
Ph: 888 442 2262
A P.B. Dye creation that is home to more than its fair share of pot bunkers and spectacular ocean views.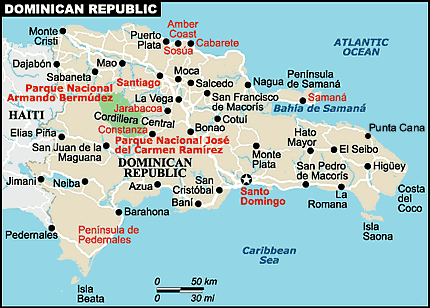 FAQ
1. What and where is the Dominican Republic?
The Dominican Republic is located between the Caribbean Sea and the North Atlantic Ocean, east of Haiti. It has over 1,200 kilometers of coastline, while the rest of the country borders Haiti. It is slightly more than twice the size of New Hampshire. Santo Domingo is the capital.
2. Do I need any special documents once I get there?
Citizens from the majority of the countries worldwide may travel to the Dominican with a valid passport. They will also need to purchase a tourist card. It costs US$10 and can be purchased along with your plane ticket, at Dominican consulates as well as upon your arrival.
3. Will I suffer from any jet lag?
Well, that of course depends where in the world you are traveling from, but the Dominican Republic is west of the Greenwich Meridian and three hours ahead of America's east coast.
4. What type of weather should I expect?
The average annual temperature in the Dominican fluctuates between 65 and 81 degrees Fahrenheit. There are two rainy seasons, one in the fall and the other in late spring. The northern and eastern regions receive the most of the precipitation.
5. What is the official language and currency?
The official language is Spanish while the official currency is the Dominican Republic Peso.
6. Besides golf, what are some worthwhile activities?
The Dominican Republic, with all of its natural splendor, is also well known for its cultural arts. The Teatro Nacional is a modern theatre in Santo Domingo, and a great place to take in a performance if the timing works out. There are also many art galleries, craft shows and live music to keep you busy when no scaling the links or enjoying the plentiful sunshine.
Transportation Information
The easiest cities to find flights to Santo Domingo from the United States are New York, Newark, Philadelphia and Miami. Popular carriers making daily departures and arrivals include American, Trans World, USAir, American Eagle and Continental. A popular way to get to other parts of the country is through San Juan, Puerto Rico.
Once on the ground, you'll find many of the car rental agencies that you are familiar with: Alamo, Hertz and Budget.
Agree with this review? Disagree?
Post your thoughts at GolfBoards.com.