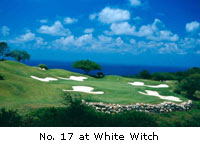 DESTINATIONS
Jamaica
Staff Report
The Jamaican golf scene is buzzing with refurbished classics as well as sparkling new resort venues sure to knock your socks off. Montego Bay is home to the country's best courses, but challenging tracks are scattered across the brilliant countryside.
Courses at a Glance
Breezes Runaway Bay
Ph: 876 973 7319
John Harris designed this course, situated 42 miles from Montego Bay, in 1960.


Caymanas Golf Club
Ph: 876 922 3386
Located just six miles from Kingston, the course was Jamaica's first championship track.


Constant Spring Golf Club
Ph: 876 924 1610
This par-70 was designed in 1920 and currently sits in one of Kingston's nicest residential settings.


Half Moon Golf Club
Ph: 876 953 3105
Robert Trent Jones' stamp on Jamaica is part of a luxurious, 400-acre resort near Montego Bay.


SuperClubs Golf Club
Ph: 876 953 2800
Formerlly known as Ironshore, this links-style course is set in the middle of a luxury villa resort.


Manchester Country Club
Ph: 876 962 2403
Located in the historic town of Mandeville, this ancient course has nine holes but features 18 different tee boxes.


Negril Hills Golf Club
Ph: 876 957 4638
Overlooking the rolling hills and pristine beaches of Negril, this picturesque setting features undulating fairways and plenty of water hazards.


Sandals Golf and Country Club
Ph: 876 975 0119
Located in Ocho Rios, this is arguably one of the country's more scenic venues.


Three Palms Ocean Course at Wyndham Rose Hall
Ph: 876 953 2650
Located east of Montego Bay, this championship course is well known for its short but devilish par-4 eight hole.


Tryall Golf, Tennis & Beach Resort
Ph: 876 956 5681
Built on former sugar plantation, Tryall was once an LPGA Tour stop and host of the prestigious Johnnie Walker World Championship.


White Witch Golf Course
Ph: 876 953 2800
This Robert von Hagge and Rick Baril-designed layout is located five minutes from the Ritz Carlton Rose Hall.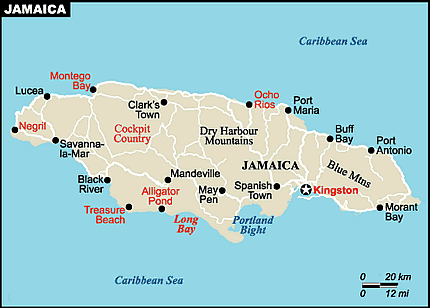 FAQ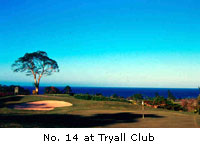 1. What and where is Jamaica?
Jamaica is the third largest of the Caribbean islands and the largest of the English-speaking islands. It is located in the Caribbean Sea, south of Cuba. . Much of the country is made up of mountainous terrain, with the highest point, Blue Mountain Peak, reaching 7,400 feet. There are also a plethora of scenic beaches and over 120 rivers. Jamaica became an independent country in 1962 and today is a member of the Commonwealth of Nations. Kingston, the capital, is located in the east, while Montego Bay, a popular golf haven, is located in the southwest corner.
2. Do I need any special documents once I get there?
Citizens of the United States and Canada may gain entry to Jamaica with either a valid passport or a certified proof of birth accompanied by a state of government issued photo I.D. Travelers from these two countries do not need to apply for a tourist visa.
3. Will I suffer from any jet lag?
Well, that of course depends on what part of the world you are traveling from, but Jamaica is located in the Eastern Standard Time zone. It does not, however, observe daylight savings time, thus making it an hour earlier than the east coast in the summer.
4. What type of weather should I expect?
The Jamaican climate is tropical and quite pleasant year round, aided by northeast trade winds and breezes originating in the mountains. Water temperatures hover around 80 degrees Fahrenheit. Hurricanes are rare, but the season begins around July and lasts until about October.
5. What is the official language and currency?
Jamaicans officially speak English, but with a dialect that may be confusing at first. Patois, a blend of English and African, will also be commonly heard. The official currency is the Jamaican dollar.
6. What kind of taxes should I expect during my stay?
There is a departure tax of US$27 that must be paid in cash at the airport on your way out of Jamaica. Those choosing to depart by sea will owe a levy of US$15. Hotels generally will include a 10 to 15 percent service charge in your bill, while restaurants do not, so be sure to tip accordingly.
7. Besides golf, what are some worthwhile activities?
Perhaps more than anything else, Jamaica is an adventure island, one that must be explored and traverse by foot, raft, bike or jeep. The country is well known for its unique supply of bird species, deep blue seas home to blue marlins, wahoos and tuna, as well more than enough venues for mountain climbing and wild safaris.
Transportation Information
Getting to Jamaica is not a problem, and at just two and half hours from Miami, it is in fact one of the easier destinations to get to in the Caribbean. Popular carriers departing from North America include Air Jamaica, Air Canada, American, Northwest and USAir. Departing from within the Caribbean is not a problem either, as Air Jamaica, Air Sunshine, BWIA and Cayman Airways are a few of the carriers that make scheduled flights between islands. Jamaica is also a very popular cruise destination. Well known lines include Carnival, Celebrity, Princess and Royal Caribbean.
You must be 25 to rent a car in Jamaica and can use your home drive's license for a period of three months. Most of the frequented cities in Jamaica are within two hours of each other, and the journey, on the left side of the road, is a visually enjoyable experience.
Agree with this review? Disagree?
Post your thoughts at GolfBoards.com.