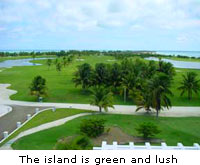 DESTINATION
Unlimited play, luxury, seclusion in Belize at Caye Chapel Golf Resort
By Cynthia Boal Janssens,
Contributor

BELIZE, Western Caribbean (Feb. 11, 2003) -- Caribbean golf courses tend to be a mixed bag. Some are outstanding, like the Teeth of the Dog in the Dominican Republic and the White Witch in Jamaica, but others tend to be underwatered, overplayed and a bit sparse.

Often, they disappoint.

So it was a pleasant surprise to find a knock-out golf course, in nearly pristine condition, located on a tiny island located off the coast of Belize.

Belize?

That tiny country of only 200,000 people located in Central America, known as a great place to scuba dive?

But here we discovered a luxurious, secluded resort situated on its own island. It has an elegant great house, a marina, pool complex and a long, sandy beach. Most important to us, it has 18 holes of golf that you can play all day long, if you so desire. There are no tee times. Heck, there are only 50 guests on the island, max, at any time.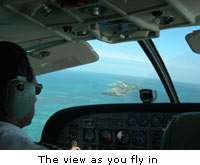 You get to Caye Chapel Golf Resort by first flying into Belize City. Then you can catch a 10-minute flight on a local airline on to Caye Chapel (pronounced "Key" Chapel).
As you fly in you see that the caye is just one long sand spit with the golf holes extending out and back from a center clubhouse. When you arrive you find golf carts waiting at the air strip, and you just hop in and drive yourself right up to the clubhouse. Check into your own villa or casita and you are set for a memorable few days.
Caye Chapel Resort is just into its second season. It was developed by Larry Addington of Ashland, Kentucky, who has owned the island for 25 years. (Belize has over 200 cayes, most situated inside the 200-mile Belize Reef that attracts so many divers.)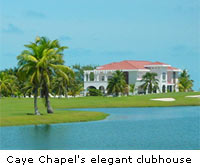 It took five years to build the resort, including 18 months of reconstruction due to massive damage to the golf course from Hurricane Keith in October of 2000. Addington himself designed the course and Tee Time International built it.
No question that Addington has invested massive amounts in this resort. In addition to 18 holes of golf, there is a 12-slip marina, nine villas and a dozen "casitas" - duplex units that are like oversized hotel rooms. A desalinization plant can produce 600,000 gallons of fresh water daily if needed for the accommodations, clubhouse, swimming pool and to irrigate the golf course.
However, all of these facilities are spread around the island in such a way as to make visitors feel very much like they are on their own private island.
Golfers will find playing this course a rare treat and not just because it is never congested. It is quite challenging, what with a plethora of water hazards and stout trade winds to keep it interesting. Somehow, they managed to get this course rated -- it's so private you wonder how - at 74.9 with a slope of 139. It plays just a few yards short of 7,000 from the tips, and 6,457 from the white tees and 5,437 from the forward tees.
The hole that everyone remembers is No. 16. It is a 515-yard par-4 that has the Caribbean Sea running all along the left side. There is a seawall along the ocean so there is no forgiveness if your ball goes over the side. It's gone.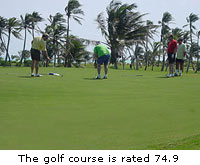 There isn't much wildlife on the island, except the usual sea birds and crocodiles. Yes, there are signs all about reminding visitors that there are crocs in all of the ponds and, indeed, golfers are required to sign waivers stating they have been informed of the fact and warned to avoid them.
That said, we didn't see any at all on our day of play.
The accommodations are also outstanding. There are nine "villas" lining the beach. Each has either two or three bedrooms. These houses are huge, with high ceilings, many balconies and high-level décor. Although they have big kitchens (they may eventually be sold as individual homes), the Caye Chapel rates include three meals a day served in the elegant clubhouse.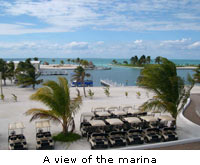 Intimacy and seclusion are a priority at the resort, explains Cynthia Ringgold, administrator. While they do allow non-guests at the resort on a daily basis by reservation only, the day package costs $200 per person whether or not you play golf. "This policy assures a level of privacy not found anywhere within the Caribbean," she explains.
If this seems just a bit too isolated and quiet, Ringgold notes that there is more to do: "We have a fleet of small river and bone fishing boats, a glass bottom boat which makes snorkeling trips to the Belize Reef and a 30-feet flat-top barge with bar for sunset cruises and reef trips." The resort also offers inland excursions to the Mayan ruins and the Belize Zoo.
So if you can tear yourself away from the golf course, you might try bone fishing off the shoreline, or for a tarpon in one of the island lakes or just fish off the pier for snapper or jack. Tarpon in a lake? "Yes, absolutely, positively." Ringgold says. "Our lakes are all brackish and the tarpon are huge."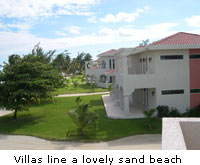 Or, you can go on a croc hunt: "Our croc hunting both day and night is another adventure our guests seem to enjoy with photo excursions and telephoning other guests when one is spotted," Ringgold explains. Sounds exciting to me.
Just the facts:
Rates: $329 per person for the villas (four minimum) which includes unlimited golf, two golf carts per unit, clubs (if needed) and all meals; $199 per person for the smaller casitas (two person minimum), which are located by the marina and include the same amenities. For bookings, its best to call the manager Cynthia Ringgold directly and she'll match you up with the right unit.
The rate does not include air travel to Belize and air travel between Belize City and Caye Chapel. There is also an 18 percent resort and sales tax added.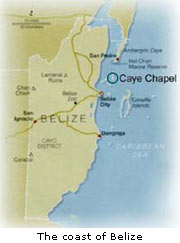 For information, visit www.cayechapel.com For reservations, e-mail Cynthia Ringgold, manager, at golf@cayechapel.com or call (800) 901-8938 or 011-501-226-8250. You can write them for information at: Caye Chapel Golf Resort PO Box 5059 Ashland, KY 41105-5059
You can also visit and play golf at Caye Chapel on a Carnival Cruises golf excursion. At this time, the Carnival Legend visits Belize on its "Exotic Caribbean" itinerary. Go to www.CarnivalGolf.com for details. The current cost of the excursion is $225 per person.
Agree with this review? Disagree?
Post your thoughts at GolfBoards.com.