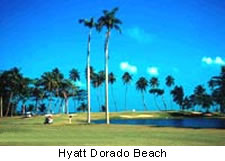 DESTINATIONS
Puerto Rico
Staff Writer
The abundance of golf courses in Puerto Rico comes as no surprise, given its unbelievable climate and strong tourist draw compared to some of the other islands in the Caribbean. The presence of big name designers comes as no surprise, either, as the rolling land and abundant vistas set up perfectly for luxurious ocean-side resort golf courses.
Golf Courses at a Glance
Aguirre Golf Club
Ph: 787 853 4052
The nine-hole course in Salinas was designed in 1928, making it one of the oldest in the country.


Bahia Beach Plantation
Ph: 787 256 5600
Rio Grande's best public offering, it was designed by J. Burton Gold in 1991.


Berwind Country Club
Ph: 787 876 3056
An inexpensive, semi-private course developed by Bob Holoman in 1969.


Club Depotivo del Oeste
Ph: 787 254 3748
A semi-private, nine hole Jack Bender design.


Coamo Springs Golf and Tennis Club
Ph: 787 825 1370
The 18-hole Ferdinand Garbin design is located in the southern hills above the town of Coamo.


Dorado Del Mar Golf Club
Ph: 787 796 3070
Semi-private course designed by Chi Chi Rodriguez in 1998.


El Conquistador Resort & Country Club
Ph: 787 863 1000
A 1994-Arthur Hills designed resort course in the heart of Fajardo.


Flamboyan at Palmas del Mar Golf Club
Ph: 787 285 2256
Another one of Puerto Rico's newer designs, Rees Jones developed this resort course in 1998.


Hyatt Regency Cerromar Beach Golf Club
Ph: 787 796 1234
Features two 18-hole championship designs (North and South Courses) by Robert Trent Jones, Sr., a casino and health spa.


Hyatt Dorado Beach Resort and Country Club
Ph: 787 796 1234
The 1000-acre Hyatt property is home to two more Robert Trent Jones, Sr. designs, the East and West Courses, each developed in the 1950s.


Palm at Palmas del Mar Golf Club
Ph: 787 285 2256
Gary Player left his mark in Puerto Rico in 1974 with this resort course in Humacao.


Punta Borinquen Golf Club
Ph: 787 890 2987
An easily accessibly Pete Dye-designed-public course in Raymey.


Westin Rio Mar Beach Resort and Golf Club
Ph: 787 888 8811
The luxurious Westin is home to two championship courses - the River designed by Greg Norman in 1997 and the Ocean designed by George and Tom Fazio in 1975.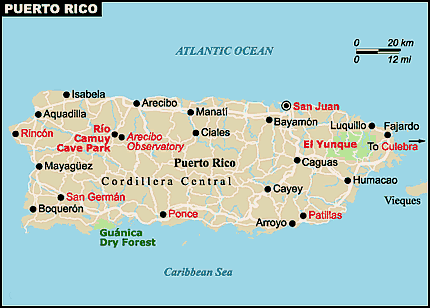 FAQ
1. Where is Puerto Rico?
Puerto Rico is located about 1000 miles southeast of Miami, between the Caribbean Sea and the North Atlantic Ocean. It is directly east of the Dominican Republic. San Juan is the capital, while other popular cities include Ponce, Carolina and Fajardo. Puerto Rico has approximately 580 kilometers of coastline, and in addition to the main island, features many smaller islands worth checking out.
2. Do I need any special documents once I get there?
American citizens can travel to and from Puerto Rico without going through customs or immigration. Citizens of other countries must provide valid passports, and depending on length of stay, official visas.
3. Will I suffer from any jet lag?
That of course depends on where you are coming from, but Puerto Rico is in the Atlantic Standard Time zone, one hour ahead of Eastern Standard Time during daylight savings time.
4. What type of weather should I expect?
The average annual temperature in Puerto Rico is 82 degrees Fahrenheit (nights in the mountain regions are somewhat cooler). Accordingly, the peak tourist season is December to April, while the rest of the world is suffering through winter. Another factor to take into consideration is that May to November is hurricane season, and Puerto Rico is a consistent target.
5. What is the official language and currency?
Puerto Rico is a commonwealth of the United States, so the American dollar is the official currency. The U.S. dollar is commonly referred to as a "peso." English and Spanish are the official languages. English is required in all federal matters and it is spoken throughout all of the popular tourist locations.
6. What kind of taxes will I pay when I am in Puerto Rico and how much should I tip?
There is a nine percent non-casino hotel tax, while the rate jumps to 11 percent in casino accommodations. Gratuity is included in the bill at major restaurants and nightclubs, but if it is not, 15 to 20 percent is customary. There is a local tax on all purchases.
7. Besides golf, what are some worthwhile activities?
Puerto Rico may be best known for its beaches and sparkling ocean, but the land is actually quite diverse, making sightseeing a popular tourist activity. Away from the coasts, vacationers will encounter a very mountainous terrain. The main chain of mountains is referred to as the Cordillera Central, and is a popular day trip. There are also several national forests and interesting caves scattered throughout the region.
Transportation Information
There are a total of 30 airports in Puerto Rico, with ten of those offering scheduled flights to and from the United States and abroad on a daily basis. The Luis Munoz Marin International Airport in San Jaun contains the most in and outbound traffic. A large collection of airlines make regular trips into Puerto Rico, including American, British Airways, Continental, Delta, and United. Travel time from New York is about three and half hours, eight hours from the west coast and Europe, and roughly two and a half hours from Miami.
Car rental agencies similar to those found in the United States can be found throughout Puerto Rico. Visitors with a valid drive's license from their home country are free to operate vehicles for the first 120 days of their stay. While driving is done on the right side of the road, things to keep in mind before setting out are that the road signs are in Spanish, the distances in kilometers and the gas is sold in liters.
Agree with this review? Disagree?
Post your thoughts at GolfBoards.com.