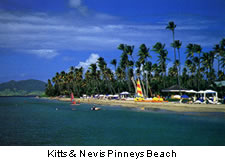 DESTINATIONS
St. Kitts & Nevis
Staff Writer
The golf offerings at St. Kitts & Nevis may not be plentiful, but they are definitely worthwhile. One comes from the mind of a big time designer, the other located amid the grounds of a fabulous resort.
Golf Courses at a Glance
Four Season Resort Course
Ph: 869 469 1111
Robert Trent Jones Jr.-designed course offers splendid views of Nevis as well St. Kitts across the Caribbean.


Frigate Bay Golf Course
Ph: 869 466 1200
Challenging par-72 operated by the Royal St. Kitts Marriott Beach Resort, bordered on the south by the Caribbean Sea and on the north by the Atlantic Ocean.


FAQ
1. What and where are St. Kitts & Nevis?
St. Kitts and Nevis are sister islands in the East Caribbean that comprise an independent country. They are 45 minutes apart from each other via a government-operated ferry ride that costs US$8. St. Kitts is roughly 70 square miles in size and the capital is Basseterre. Nevis is a 36 square mile "sombrero shaped" island, with Charlestown as the capital.
2. Do I need any special documents once I get there?
Citizens of the United States and Canada need to present a passport or a birth certificate accompanied by a valid photo I.D. Visitors from all other countries must provide a passport. Visitors may stay for a maximum of six months.
3. Will I suffer from any jet lag?
Well, that of course depends on what part of the world you are traveling from, but the islands are in the Eastern Standard time zone, but they do not observe daylight savings time.
4. What type of weather should I expect?
The average temperature on the tropical islands is usually just above 80 degrees Fahrenheit, with the air cooling off in the evenings due to steady breezes. There is no specific rainy season.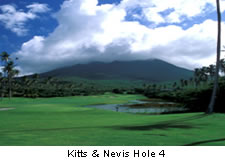 5. What is the official language and currency?
English is the official language while the East Caribbean (EC) dollar is the official currency. Many stories will accept U.S. paper currency, but not coins. The exchange rate remains pretty steady at EC$2.68 = US$1.
6. What kind of taxes will I pay during my stay?
There is a departure tax of US$18. Most service charges are added into your bills, including 10 percent at restaurants and 18 percent at hotels, but it is always good to inquire.
7. Besides golf, what are some worthwhile activities?
On foot, Nevis is one of the purest and most beautiful of all the islands in the Caribbean. From the 3,232-foot Nevis Peak to the clear waters down below, there is too much lush vegetation and exotic animals to spend the days indoors. Cricket, horse racing and mountain biking are a few of the other popular island activities. All the same is true on St. Kitts as well. Horseback riding, visits to the many historical sites and scenic railway tour rank among the most frequented activities.
Transportation Information
The most reasonable method of getting to either of the two islands from the United States and Canada is through Puerto Rico. Through carriers including American, Continental, Delta, United and USAir, travelers make a brief stop in San Juan before departing for St. Kitts. If you're headed for Nevis, it's either a 45 minute ferry ride or a five minute plane ride aboard LIAT or Nevis Express. There is also direct service from San Juan to Nevis on LIAT.

There are plenty of public transportation options for getting around St. Kitts. Taxis and mini-buses populate the island, and are constantly traveling to and from the airport and popular resorts as well as to the main tourist locations. Renting a car is easy enough, Avis and Thrifty both operate on the island, but it requires that you purchase a government permit for EC$50. It last three months and needs to be obtained from an island police department.
Agree with this review? Disagree?
Post your thoughts at GolfBoards.com.