DESTINATIONS
U.S. Virgin Islands
Staff Report
Of the islands that make up the U.S. Virgin Islands, St. Croix by far offers the best golf options. In fact, many vacationers set on spending most of their time at the resorts and beaches on St. Thomas or St. John plan day trips to St. Croix for a round or two of golf after exhausting the possibilities on the other two.
Golf Courses at a Glance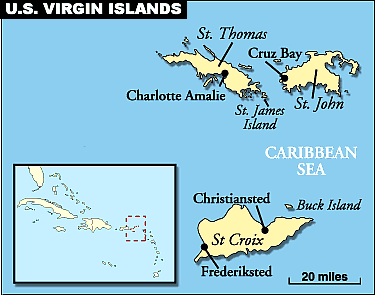 FAQ
1. What and where are the U.S. Virgin Islands?
The Virgin Islands consist of three landmasses - St. Thomas, St. John and St. Croix - are located east of Cuba in the Atlantic Ocean and Caribbean Sea. St. John is just 20 minutes away from St. Thomas via ferry, while getting between St. Thomas and St. Croix is as easy as taking a 25 minute plane or helicopter ride.
2. Do I need any special documents once I get there?
Although U.S. citizens won't need their passports when they step off the plane, they will need to show evidence of citizenship. Birth certificates or photo ids are the easiest way to satisfy this requirement.
3. Will I suffer from any jet lag?
That of course depends on where you are coming from, but the Virgin Islands are in the Atlantic Standard Time zone, one hour ahead of Eastern Standard Time during daylight savings time.
4. What type of weather should I expect?
The average temperature in the U.S. Virgin Islands ranges from 77 degrees and 83 degrees, so bring plenty of comfortable clothes and sunscreen.
5. What is the official language and currency?
English is the official language and the U.S. dollar is the currency.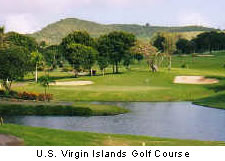 6. How much should I tip at hotels and restaurants?
Customary tipping is anywhere from 15 to 20 percent. Be sure to pay attention to your hotel bill, however, as many hotels automatically add a service charge.
7. Besides golf, what are some worthwhile activities?
If you are spending time outdoors, you are getting the most out of your vacation. The full range of water activities - snorkeling, scuba diving and wind surfing - are great options, while horse back riding tours and hiking trips are excellent ways to explore the countryside and the wonderful ecology of the islands. At night, there are a multitude of shopping and dining options, and the nightlife is exciting.
Transportation Information
Five national airlines offer service from the U.S. mainland to the Virgin Island: American, Continental, Delta, United and U.S. Airways. Direct flights are available from major metropolitan cities like New York, Baltimore and Miami, while connecting flights through San Juan are available throughout the United States, Canada and Europe. The Virgins Island is also easily accessible via the sea and the multitude of cruise ships leaving from Miami as well as the west coast.
Once there, transporting between the three islands and even San Juan can be done through several carriers, including American Eagle and Air St. Thomas. Helicopters rides are also a popular and scenic way to commute between destinations. Automobile rental is common, with sport utility vehicles being the rental of choice. Just remember to drive on the left side of the road!
Agree with this review? Disagree?
Post your thoughts at GolfBoards.com.