Caribbean golf: take your clubs, wallet and bodyguard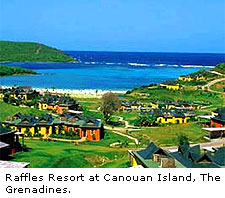 There aren't many come-ons more alluring than those from packagers who offergolf in the Caribbean: rum punches under swaying palms after a round onaworld-class course.
Especially to the winter-weary or just those who yearn for an exoticbreakfrom the mundane, golf vacations in the Caribbean may at first appear tobethe ideal, tropical balm for what ails you.
But buyer beware: sometimes the Caribbean isn't always what it's crackedupto be. Here are some factors the travel agents may conveniently forgettotell you about.
First of all, crime - including violent crime - is on the increase virtually everywhere in the Caribbean. The islands are a transnational shipping point for illegal drugs going from Columbia and elsewhere in South America to the U.S. and Europe.
Paradise: hard to find
Add declining economies and high unemployment in many Caribbean states, and you have a problem of considerable proportions. As one who has lived for years in the Caribbean, and was the victim of two robberies and several other near-misses, I can testify that paradise may not be exactly be lost, but sometimes it seems hard to find.
Of course, most golf resorts have good security and most of the crimeoccursin run-down, urban areas away from the tourist hot-spots. But, even theCaribbean's dumbest criminals are starting to catch on, particularly inJamaica and the Virgin Islands.
There are more potential pitfalls than just crime. Consider that most oftheislands are in the middle of the hurricane belt and the fact that theAIDSrate in the Caribbean is higher than any place on earth except forsub-Saharan Africa.
Throw in chronic water shortages, power outages, bad roads, insanedrivers,maddening bureaucracy and the fact that the Caribbean is thedemonstration,protest and violent riot capital of the world.
Watch the VAT
On a more prosaic note, watch out for that VAT (value added tax) some islands charge. The name changes from island to island, but many have hidden fees you don't know about until you're ready to leave.
This isn't to say that a Caribbean golf vacation can't be a wonderful,once-in-a-lifetime experience, if you're careful.
Great golf resorts are mushrooming in the islands. Here are some of the top resorts in places where dangers may lurk amidst the herons and pink flamingoes, and ways to help avoid those problems.
• The Dominican Republic has a course, Teeth of the Dog, that is always on top-10 lists for the Caribbean. It also has Punta Cana, Guavaberry and Caso de Campo.
But, the island also has had an upswing in violent crime and thecriminalsare becoming more violent. Home invasions are becoming more prevalent.
If you venture off the resort grounds, watch for public taxi drivers,whosometimes turn robbers themselves. Make sure you get a reputable driver,andhis name.
Be aware that outside of the tourist areas, little English isspoken.
Also, be sure you carry a passport; you can get into the country withoutone, but sometimes it's more difficult getting out.
Stay close to your Angel
• Puerto Rico, which has been described as the golf mecca of theCaribbean,is totally out of hand.
The U.S. territory is one of the deadliest places in the country. Thehomicide rate is skyrocketing - three times the national average. About80percent of the murders are attributable to gangs and international drugtraffickers.
The island has 10 or 11 great courses, including the Bahia BeachPlantation,El Conquistador, Dorado Del Mar and the Hyatt Dorado Beach Resort, justtoname a few.
Nice place to golf, but think twice when you leave the course. Or staycloseto the Guardian Angels, the semi-vigilante group from New York, alast-ditcheffort to fight the bad guys.
• Jamaica is unimaginably beautiful in parts, and home to the White Witch, Negril Hills, Manchester and the Three Palms Ocean Course, among others.
It's also a crime armpit once you get away from the fancy tourist areas.Gang violence and shootings go off like clockwork in the capital ofKingston, but crime is spreading to resort areas, particularly againstwell-heeled tourists.
The government is trying bike and foot patrols, but the understaffedpoliceare overwhelmed and largely ineffective. Be aware, medical care islimited.
Lock up everything, including yourself in your hotel room at night if you sense trouble. Stay away from unlighted areas, including the beach at night, and ignore any offers to buy drugs.
Steer clear of St. Croix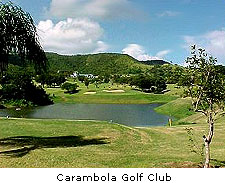 • St. Croix, home to the Carambola and Buccaneer golf courses, is myleastfavorite island in the Caribbean.
One of the three main U.S. Virgin Islands, St. Croix once had a brightfuture as a cruise ship destination. But, lethargic government officialsrefused to do anything about increasing complaints involving crimeagainstcruise ship passengers and their crews.
So the cruise ships finally left, the economy went south and now thereismore crime than ever. Most airlines steer clear as well. You should,too,unless you absolutely have to play Carambola, a very nice course.Considerhiring a bodyguard.
St. Thomas, the other island in the chain along with St. John, hasMahoganyRun. It's another nice course, but be prepared for rude and sometimesevenhostile treatment from many island residents once you leave the courseandventure into the outside world. It's a common occurrence, so don't feelasthough it's just you.
• The Bahamas, closest Caribbean destination to the U.S. mainland, hasnineor 10 top-notch courses, including Fortune Hills and the new Ocean ClubonParadise Island.
Crime is up here as well, and moving into tourist areas. Date rape drugsarereportedly becoming popular. Medical care is good in Nassau andFreeport,but lousy elsewhere.
Also, beware if you ride jet skis; the industry is unregulated and deaths occur every year.
Sing, dance, pay a ransom
• Trinidad and Tobago, birth place of steel pan music, has the best music and Carnival in the Caribbean, not to mention St. Andrews Golf Club in the middle of the country. But, its criminals also have a tendency to kidnap people.
Kidnappings have shot up in the country in the last few years, and there is no telling if the kidnappers will hold you for ransom - which is what kidnappers are supposed to do - kill you, or just let you go on a whim. They 've been known to do all three.
• Even in the Turks and Caicos, sleepy little islands just south of theBahamas, there have been increased reports of sexual assault and othercrimes in tourists resorts.
Home to Provo Golf and Country club, and Waterloo, make sure you don'tgetcaught with illegal drugs. No fancy lawyers here; possession of evensmallamounts of marijuana can land you heavy fines and long prison terms.
As in other islands, foreigners are sometimes charged as international drug traffickers even if they were caught with a small amount of dope.
Barbados, Aruba relatively safe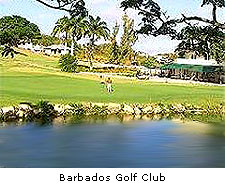 • Barbados has the Royal Westmoreland, and is relatively safe. The island has its share of petty theft and street crime, though violent crime does occur. Stay off the beaches alone at night.
• Aruba is also relatively safe. Home to Tierra del Sol, Oranjestad, andSant Nicolaas, incidents of hotel rooms being broken into have beenreported. But, simply taking ordinary precautions should keep you safehere.
Make sure you're fully insured if you rent a car, however. Teens like tosteal them to joyride in or strip them for parts.
There are exceptions to these increasingly violent Caribbean islands,mostnotably Cuba.
The PGA and Cuban tourism officials have an agreement to build morecourseson the sprawling island, and Cuba now has a national golf developmentstrategy.
Despite a crime surge a few years back, both recent anecdotal evidenceandofficial numbers indicate Cuba is one of the safer places in theregion.
Just remember not to bad-mouth Fidel or you could be arriving home viaraft.